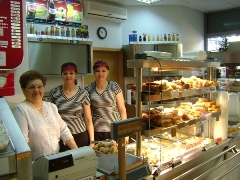 The focal points of our company are our two salad bars, both which can be found at the center of Debrecen. Our guests will find fast, friendly service and a wide variety of fresh, home-style meals. Our restaurants boast a wide variety of salads, casseroles, baked goods, desserts, and sandwiches, all of which has been prepared under strict quality controls. For assistance in ordering cold plates for delivery, our courteous and knowledgeable staff can help you find the right solution for your needs.
When compiling our menus, we take extra care to satisfy all aspects of modern eating. Since many of our customers work in nearby offices, we take care to serve meals that are nutritional, healthy, and available on-the-go. For customers with more time to relax, we invite you to sit on our terrace, perhaps with a coffee or a glass of beer, and survey the busy city. We cater to your every need.
For our returning customers, we introduce a Frequent Customer card. This card offers you valuable discounts and promotions. Apply at either of our locations.